Purified Air's unique electrostatic precipitator (ESP) is our flagship industrial air cleaner. The technology and process is used to remove smoke, oil and grease produced by commercial kitchens, as well as within indoor air filtration systems to remove fine particles from the air. 
How does the electrostatic precipitator (ESP) work?
Electrostatic precipitators have been in use since the late 19th century. They remove tiny particles from the air by applying a static charge to particles in the airstream. These particles are then attracted to collector plates which have the opposite electrical potential. This results in them being stripped from the air and removing up to 98% of grease, smoke and oil particles down to 0.01 microns in the process.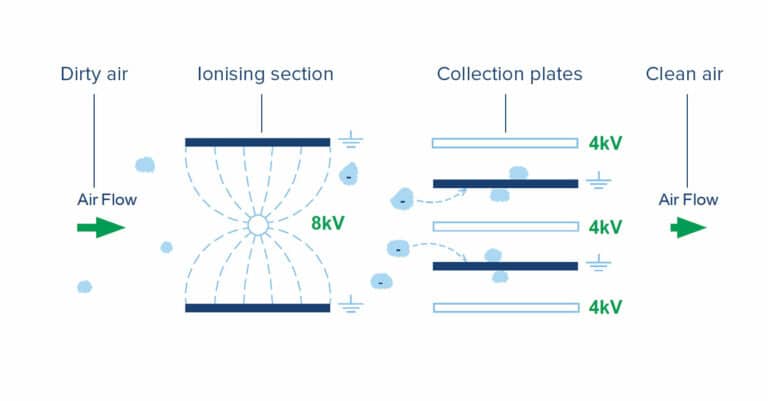 Our ESP units are manufactured in the UK and come in four sizes, which handle differing air capacities – from 0.7m3/sec to 2.8m3/sec.
How effective is the electrostatic precipitator (ESP)?
This filtration capacity is highly efficient – up to – even with sub-micron sized contaminants such as virus and bacteria. This chart shows how the type of particles that are removed by our ESP air filters: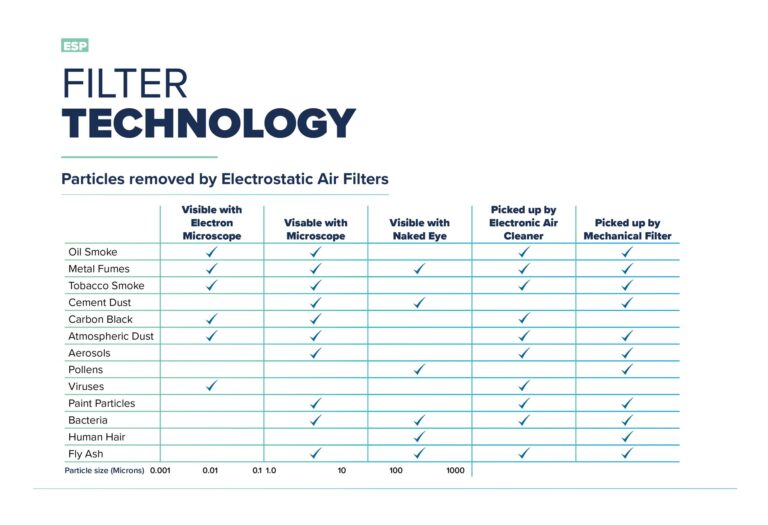 This is an energy efficient option that uses our next generation high voltage power supply; competitor units consume more than ten times that of our product. Purified Air's ESP is also UL approved and CE certified.
Is the ESP unit easy to clean?
 Yes. The ESP industrial air filtration system components are metal, which means they can be easily cleaned in hot water with chemicals to remove contaminants. This avoids the need to replace the air filters. It has an auto-wash system, designed to operate daily when the kitchen is closed.
The air filtration unit incorporates a sump for collection of oil and grease and has a capacity of a minimum of 16 litres per collector cell to greatly reduce grease build up in the air.
Who uses the electrostatic precipitator (ESP)?
Our ESP air cleaner is primarily used for commercial kitchen applications but is also used in the VIU 1000 and VIU Mobile products to improve the air quality in offices, shopping centres and airports. Customers using our ESPs include McDonald's, Burger King, KFC, The Dubai Mall and Harrods.
Find out more about Purified Air's ESP range and get in touch if you have any questions.